Propeller Sizing - Have You got the Correct Propeller?
by Robert Olds
With high fuel prices, now is a good time to fit the best propeller.
The first step in assessing whether an installed propeller is suited to the vessel and engine is observation. Does the vessel perform as well as others of similar power and design? If the answer is no, it is important not to jump to the conclusion that the propeller is incorrectly specified. Other factors must also be considered, such as the condition of the underwater surfaces of the hull. When was the vessel last cleaned and painted? What is the condition of the propeller - is it clean, undamaged and smooth? What is the power of the engine and what condition is it in - should it deliver the same amount of power?
The propeller may be incorrectly specified if:
The engine fails to achieve designed RPM and is overloaded;
The engine passes designed RPM at full throttle, over-revs and is under loaded;
The propeller is overloaded and shows signs of cavitations and surface erosion.
Therefore, a preliminary check is advisable before consulting a propeller company or naval architect for further assistance. A simple method for making a first estimate of what the basic parameters of selection of a propeller for their good operation is described next.
Engine overloading wastes fuel. Overloading of the engine through the installation of a propeller with too much pitch is the most common source of fuel inefficiency. Overloading can also result from the use of a propeller with too large a diameter, but this is less common. With inboard diesel engines, a sure sign of an overloaded engine is a lot of black smoke in the exhaust before reaching the designed RPM. Overloading can result in burnt valves, a cracked cylinder head, broken piston rings and a short engine life. It is important to remember that, with a diesel engine, it is the load and not the revs that determines fuel consumption. Therefore, continuous overloaded operation results in unnecessarily high fuel consumption and increased maintenance costs.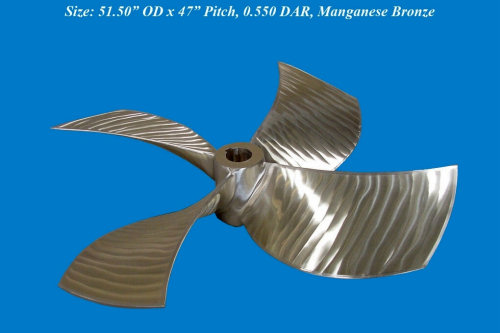 Engine under loading reduces performance. Engine under loading from the installation of a propeller with too small a diameter or of insufficient pitch affects vessel performance. It can also result in engine damage if it is allowed to rev above its specified maximum RPM. Engine under loading is likely to be accompanied by low fuel consumption and, often, propeller cavitation. If the preliminary check indicates that a change should be made to the propeller, it is worth remembering that some small changes to the pitch can be made without the expense of buying a new propeller. The re-pitching of a propeller is a specialized task, however, and the propeller will need to be sent to a manufacturer for reshaping.
Trawlers need special consideration. The design of trawler propellers requires special attention, as the propeller has to perform under two completely different operating conditions - towing and "free running". With a fixed-pitch propeller it is impossible for the propeller to be operating at optimum design conditions while both free running and towing. The propeller designer must strike a compromise based on the time the vessel spends operating in the two situations. For vessels working a great distance from their home port, the benefits to be gained from designing a propeller with increased towing power (and therefore catching capacity in the case of a trawler) may well be outweighed by the increased cost of fuel for the transit journey, and the design will err towards a higher-pitched propeller. A day boat operating relatively close to its homeport would inevitably have a propeller optimized for towing.
THE MINIMUM INFORMATION REQUIRED FOR SIZING PROPELLERS
1. VESSEL LENGTH ( also water line length, beam, draft - if known )
2. VESSEL OPERATING WEIGHT ( very important )
3. VESSEL STYLE & USAGE ( hull design and duty )
4. NUMBER OF ENGINES
5. MAX. BRAKE H.P. AND R.P.M.
6. GEAR REDUCTION RATIO _____: 1
7. PROPELLER ROTATION - L/H or R/H
8. EXPECTED VESSEL SPEED
9. MAXIMUM DIAMETER PROPELLER POSSIBLE TO FIT ( MEASURE DIA OF OLD PROP THEN THE CLEARANCE )
10. TAPER BORE DIMENSIONS AND SHAFT SIZE ( USUALLY CAN BE MEASURED FROM THE OLD PROP )
Please tell us as much as possible including any other known data (or that of a sister vessel) e.g. the present propeller, (diameter, pitch, style, number of blades) your vessel's present performance - best speed at wide open throttle and maximum engine R.P.M. achieved.
Photos, G.A. drawings and aft end section lines assist in achieving a more informed optimum sizing suggestion. Accurate information is essential. Guessed data and estimations will most likely lead to an unsatisfactory outcome wasting fuel and compromising performance.
All information is valuable for fine-tuning the sizing. If you are unsure of the exact type of propeller you require, we can help you make the best choice for your vessel.
A Tradition of Service since 1918
Since the early 1900's OLDS has been manufacturing for the marine industry. Initially propellers, bearings, glands and shafts etc. were made for use with our own "OLDS" marine engines. Since this time we have continually updated and expanded this line and formed associations with other propeller and nozzle manufacturers. The result being that today we feel confident in offering propellers and nozzle systems that are the most suitable and the finest available anywhere.
Propellers are available in Manganese Bronze, Nickel Bronze Aluminum and extra strong Aqualloy. These metals are well known for their strength, durability and repairability. Other alloys are available for special applications.
Propeller Repair: Our propeller shop is fully equipped for the repair and reconditioning of both fixed and variable pitch propellers. This includes blade repair/replacement, tip repair/replacement, pitch readjustment, resurfacing, as well as balancing.
24 hour Emergency Service: There may be times when he operation of your vessel warrants a special response. Upon request, arrangements may be made to work on your order around the clock. Overtime rates and service charges may apply, but when time is of the essence we may be able to help. Olds Engineering manufacturing propellers, shafts and bearings etc. and has been serving the Maritime Industry since humble beginnings in the early 1900's assisting fishermen with some of the first motorized fishing boats. Fostering long and close relationships between other international and Australian propeller manufacturers, Olds has introduced new propellers and nozzles designs into Australia. Through these associations Olds are able to offer world class propeller and nozzle services.
Reference: FAO FISHERIES TECHNICAL PAPER 383 (Food and Agriculture Organization of the United Nations).
| | | |
| --- | --- | --- |
| | | |
| Trawler Vessel | Free Running Vessel | Towing Vessel |