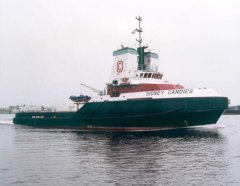 Rice Thrust Nozzle Profile
* U.S. Patent no. 5799394
The Rice Thrust Nozzle* is replacing the Kort Nozzle type 37 around the world because its hydrodynamic shape produces less drag and better performance.
Designed for Tugs, the unique shape works to maximise both forward and reverse thrust.
A Rice Nozzle is clearly a "must have" with all types of trawlers, tugs, and heavy vessels.
Fuel savings and performance gains soon pay back initial costs and with less fuel burnt for the same work it is better for our environment.
The Rice Thrust nozzle is designed to obtain maximum bollard pull.
8-13% more bollard pull - 8-10% more free running speed - 8-12% fuel saving when compared with the KORT-37 tug system.
We can supply finished nozzles to suit your vessel or guidance to manufacture your own. Contact Robert Olds or Ken Shaw.
Save fuel and increase performance now.